AirGenie Airbrush Kit
Regular price

$114.95

Sale price

$99.95
Suggested MSRP $114.95
The configuration of our AirGenie has been changed to include upgraded bonus features!
The new kits now come with a quick connect hose, (which allows for easy gun change out), and a spare needle & nozzle.
Our AirGenie Airbrush System is the economical choice for cookiers of all levels. The kit includes the AirGenie compressor, one airbrush, power cord, black quick connect air hose, nozzle wrench and dropper.
TESTIMONIALS
Barbi: "I bought the Air Genie and fell in love with it on the first time using it. I love the fact that I can change the speed of how slow or fast the color comes out. Air Genie has been an awesome game changer for me. I am looking forward to getting more Creative Cookier products."
 Features:
Compact & light-weight 
Separate on/off switch & variable speed control dial
(not found in most basic units)
Note: we do not ship this item internationally
Cup capacity: 2cc
Nozzle & needle size: 0.4mm
Chrome and satin chrome finish with airgenie logo
Compressor specifications
:
Pressure: 5-28 psi
Hose: approx 48 inches
Compressor size: 5" x 4.5 "x 2.25"
Warranty:
All AirGenie kits are tested prior to shipment and this product is warrantied for a period of:
1 years on compressor
90 days on the body of the airbrush (needles, nozzles and other consumables are NOT covered in the warranty)
Any part of the product (excluding needles and nozzles) found to be defective under NORMAL use during the warranty period will be repaired or replaced at the sole option of the Creative Cookier.
This warranty does not apply to damages due directly or indirectly to misuse, abuse, negligence or accidents, repairs or alterations outside our facilities, or to lack of maintenance. This warranty does not cover O-rings, air-filters or replacement parts or any parts intended for replacement, also excludes normal wear. We shall in no event be liable for injuries to persons or property, or for incidental, contingent, special or consequential damages arising from the use and or misuse of our product.
Share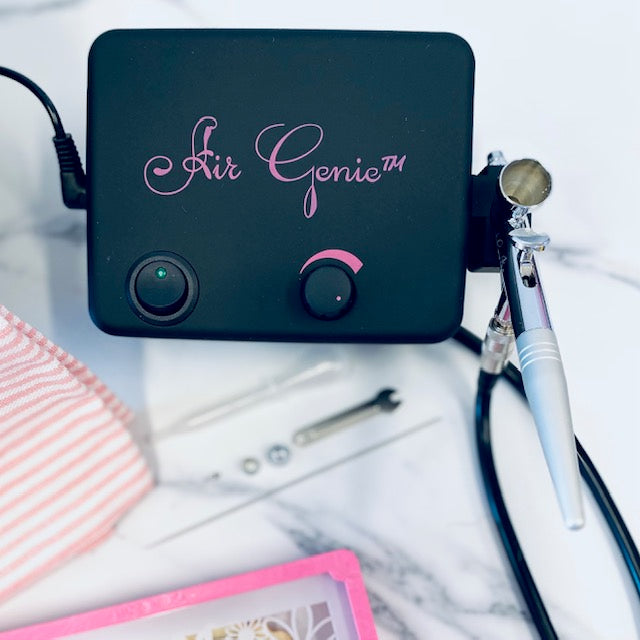 Testimonials

"I got my Easel Genie today! Shipping is SO fast! I've wanted one for so long. Can't wait to use it. Thank you!"

Shannon
"This is a MUST have tool in your cookie decorating tool box!! The fact that you can sharpen it in a traditional pencil sharpener makes it amazing too! Plus, it's name is fun to say over and over!!!"

Catherine
"I would like to apologize to every person I've ever taught before and have given my favorite ingredients. I have now found the ALL TIME BEST MERINGUE POWDER and I'll never use anything else. Thank you Creative Cookier!...The icing comes out so silky and smooth. Seriously! Amazing!"

Elizabeth
"I bought the Air Genie and fell in love with it on the first time using it. I love the fact that I can change the speed of how slow or fast the color comes out. Air Genie has been an awesome game changer for me."

Barbi
"Today is one cookie at a time. Ginny's 'Genie Mini-Mat' and turntable work perfectly for this job!"

Jamie